1. We worked in our yard this weekend. The seed we planted about 6 weeks ago, that was supposed to take 10-14 days to show up, actually took about 4 weeks. Unfortunately, we had stopped watering after about day 20. It was to our definite surprise to see new grass shooting up from the areas where we had strawed (is that a word?), fortunately, a pleasant surprise.




2. We're headed on a trip tomorrow. Winnie was in a need-wash state. Couldn't even pet the dog she was so stinky. Yuck. Why do I let her get that way? Anyway, this time the dog bath happened in the side yard, a much nicer experience than in the tub. Waaaaay nicer.



And even though she acted like she hated it the whole time, I think she secretly loved the cold shower. Maybe.

3. Because we are headed on a trip tomorrow, things will be pretty quiet around here, I mean Part of the Miracles, well, and our house. But, the blog has been fairly quiet the last 6 weeks, I'd say. Question: do you blog more when you're busy and have lots of blog-worthy things, or when things are dead and you have lots of time to think?

4. It amazes me that it is June 12 and our flox are still so pretty.


Please excuse the severe bokeh. Didn't realize my aperture was set so dang wide. Wide? Is that right? Geeze, it must be late......

5. I did a photo shoot for a friends little baby the other day and they had a zip-line in their yard. How cool is that? My kids had a ball!



6. Adam's elbow continues to heal. Thank goodness.

7. We stocked up on books at the library. Scamp is wanting to do an author study on Laura Numeroff this summer. I'm hoping to get some super charged writing experiences out of it!



I'm linking up to Melissa's Saturday Confessions. On Sunday.....night. Better late than never?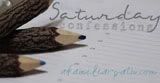 She's up to week 10--wow--way to go, Girl!